Pair set sights on slice of history with sauerkraut world record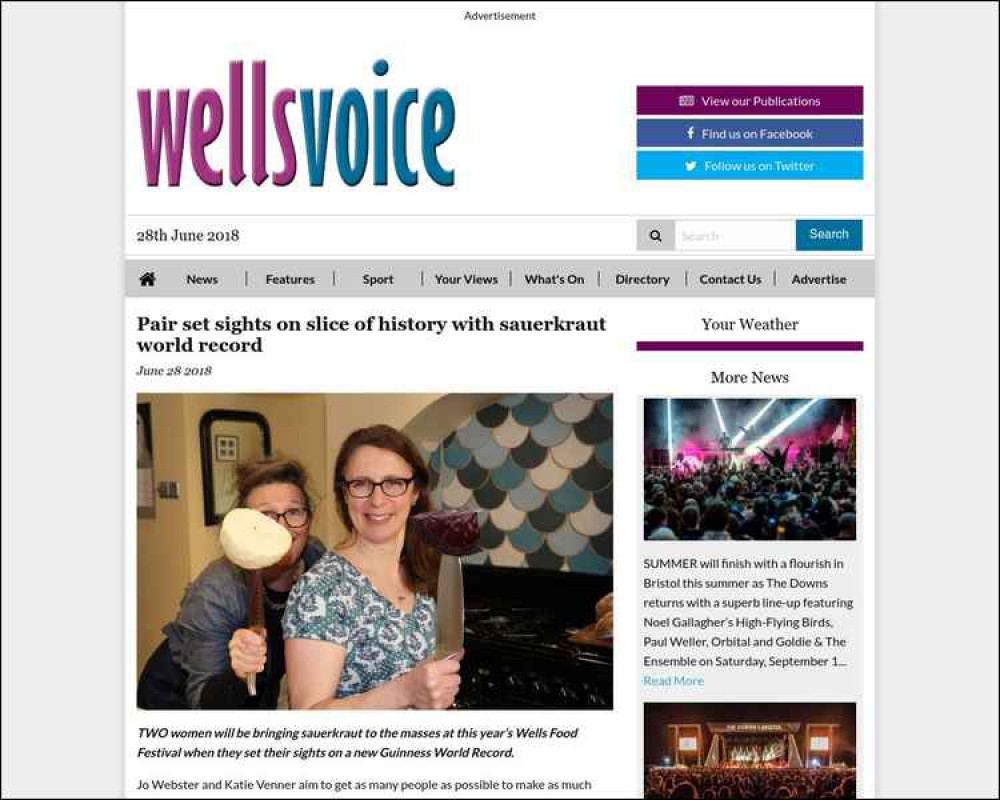 TWO women will be bringing sauerkraut to the masses at this year's Wells Food Festival when they set their sights on a new Guinness World Record.
Jo Webster and Katie Venner aim to get as many people as possible to make as much sauerkraut – bacterially fermented cabbage – as possible in the space of six hours.
The world record challenge will see hundreds of helpers chopping up 350 cabbages, which will be salted with 7kg of salt, tamped down into large vats, and left to bacterially ferment for at least a week.
There will then be a final weigh-in, after which the sauerkraut will be put into jars and distributed across Wells to cafes, restaurants, schools and individuals.
Jo and Katie met at last year's food festival over Katie's vegetable fermentation demonstration. Sharing an interest in microbes, gut health and fermented foods, they hatched a plan to create a community event to draw attention to what they say are the simple things everyone can do to keep their guts healthy – like eating more veg and fermenting some of it.
"Katie and I started this journey for one reason only – we feel passionately that the state of our health affects our quality of life," said Jo, who lives in Wells.
"We can do more to take back responsibility for the state of our own health. And improving our gut health is a great place to start. Initially, Guinness turned us down, but they eventually realised that bacterially fermented cabbage has unique characteristics that a plate of boiled cabbage lacks, so they agreed to open a new category – and we are the first ever to attempt to set this record."
Jo and Katie are both teachers of fermented foods. Jo is the owner of wondergut.com, and Katie of Tracebridge Sourdough and Fermenteria.To sign up to help with their world record endeavour, go to sauerkrautathon.com/chop-chop
This year's Wells Food Festival takes place on Sunday, October 14.