Sculpture trail a very human celebration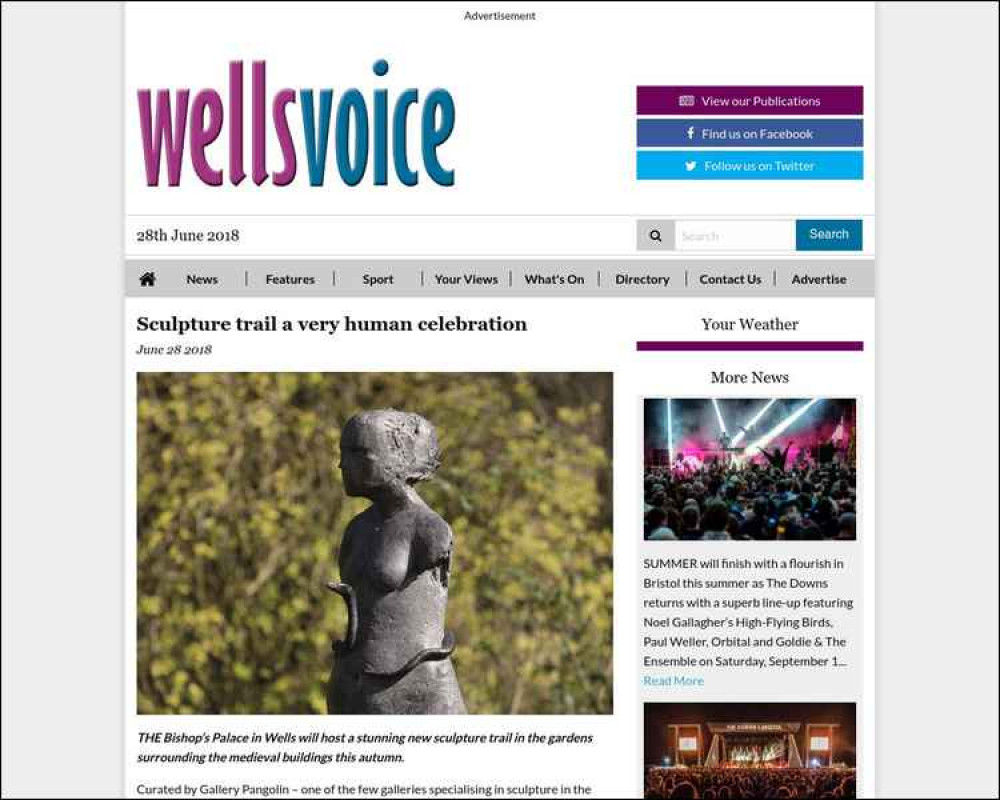 THE Bishop's Palace in Wells will host a stunning new sculpture trail in the gardens surrounding the medieval buildings this autumn.
Curated by Gallery Pangolin – one of the few galleries specialising in sculpture in the country – the sculpture trail will be made up of ten striking pieces of art which will be located throughout the Palace's inner gardens.
Human Nature will celebrate the qualities that characterise and define humankind.
The trail will comprise diverse sculptures from a disparate group of sculptors, including pieces by Lynn Chadwick, one of the giants of 20th century sculpture; Jon Buck, RWA and a Fellow of the Royal Society of British Sculptors; William Tucker, who was awarded the International Sculpture Center's Lifetime Achievement Award in 2010; Ralph Brown, RA; Anthony Abrahams and Terence Coventry.
Among the sculptures on show will be some large and striking pieces of over two metres in height, and materials used include bronze and resin.
Freddie Langdon-Daly, public events co-ordinator at the Palace, said: "The exceptional gardens of The Bishop's Palace are the perfect backdrop for this thought-provoking new sculpture trail. Gallery Pangolin have curated a wonderful exhibition, designed to enhance and reflect the beauty of this unique setting."
The sculpture trail is designed to appeal to all ages, and separate printed trails for adults and children will be available to enhance the experience.
The exhibition will be open daily from September 15 to November 25, unless there is a special event taking place, and is included in standard admission.
The sculpture trail will overlap with this year's Wells Art Contemporary exhibition at The Bishop's Palace from October 8-21.
There have been hundreds of entries for the competition, which has a top prize of £1,000 and an exhibition at the JM Gallery in London. The closing date is Monday, July 2.
Following the exhibition in Wells, a smaller selected exhibition of paintings and sculpture will be presented at the Gainsborough Hotel in Bath.
In Wells at the same time as the exhibition at The Bishop's Palace, there will be work on display by members of Somerset Guild of Craftsmen, inspired by and placed among items in the Wells and Mendip Museum collection.