Food producers set to open doors in first event of its kind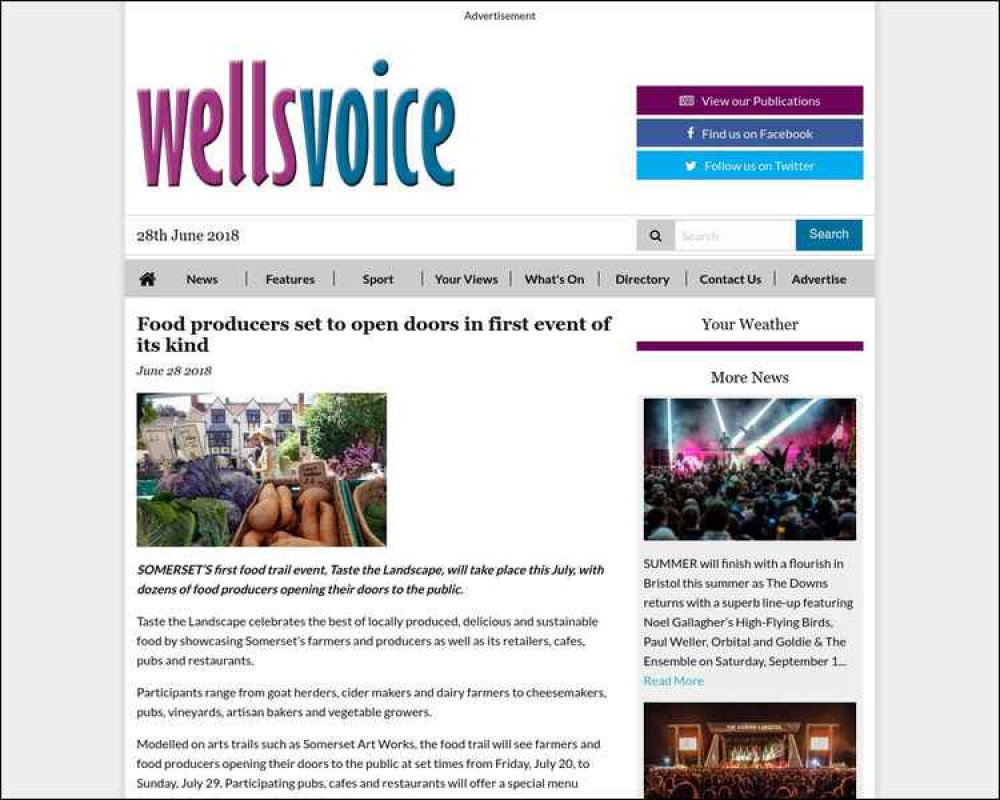 SOMERSET'S first food trail event, Taste the Landscape, will take place this July, with dozens of food producers opening their doors to the public.
Taste the Landscape celebrates the best of locally produced, delicious and sustainable food by showcasing Somerset's farmers and producers as well as its retailers, cafes, pubs and restaurants.
Participants range from goat herders, cider makers and dairy farmers to cheesemakers, pubs, vineyards, artisan bakers and vegetable growers.
Modelled on arts trails such as Somerset Art Works, the food trail will see farmers and food producers opening their doors to the public at set times from Friday, July 20, to Sunday, July 29. Participating pubs, cafes and restaurants will offer a special menu featuring locally sourced food during the event.
There will also be a series of activities such as picnics, vineyard and mill tours and pizza making. The event is mostly free to visitors, with a modest charge for some special events.
Taste the Landscape is organised by a group of community organisations that are passionate about local sustainable food. They include Wells Food Network, Reimagining The Levels, Somerset Community Food, Somerset Food Direct and Green Wedmore.
Wells Food Network chair Stewart Crocker said: "Food and farming have been a vital part of the life of Somerset for generations. Yet our food and farming system is under pressure as never before and diet-related health problems, such as type two diabetes and obesity, are on the rise.
"We believe that by putting healthy, sustainable food at the heart of all we do, we can strengthen our communities, conserve our countryside and boost our local economy.
"Taste the Landscape celebrates the great work being done by so many small-scale Somerset producers who are working hard to produce the best product they can while also enhancing our landscape, protecting biodiversity, farming to high welfare standards, reducing food miles – and, of course, producing delicious food and drink."
This first food trail mainly focuses on Mendip and surrounding areas, ranging from Wells, Wookey and Wedmore to Shepton Mallet, Bruton and the Brue Valley. However, if the event is as successful as the organisers anticipate, it will become an annual event, expanding to other parts of Somerset.
Stewart said: "Taste the Landscape is, we believe, the first food trail event of its kind, in which producers open their doors to the public for a limited period. While there are other food trails elsewhere, they are mostly found in urban areas and often focus on shops or cafes and restaurants.
"Our ambition is for Taste the Landscape to be a permanent fixture in Somerset's annual calendar of events, raising the profile of local producers and restoring food and farming to their rightful place at the heart of our community."
For more information and for details of venues, opening times and special events, and to download a map of the food trail, visit www.somersetfoodtrail.uk.
TWO ON THE FOOD TRAIL
Wookey Farm, Monks Ford, Wookey, Wells, BA5 1DT
Wookey Farm is a small, family-run dairy goat farm run by Ian and Sarah Davies, with about 150 Toggenberg, Saanen and British Alpine goats (although Sarah and Ian also keep rare-breed sheep, pigs, hens and a donkey called Mr Pickles).
Sarah has developed a wide range of cheeses and Greek style yoghurt which they sell at local markets plus ice cream that is so special it's only available to visitors at their shop. Committed to helping visitors make the connection to the provenance of their food, they run 'Open Farm Sunday' events during the year and also 'Farm and Forest School' events for children during the school holidays.
• Contact Ian and Sarah Davies: 01749 671859, 07779 145441
• Email: [email protected]; web: www.wookeyfarm.com
Burcott Mill, Wookey, Wells, BA5 1NJ
Burcott Mill is a family business, owned and run by Louise and Steve French. The origins of Burcott Mill date back over 1,000 years. Today, it is one of the few remaining examples of a working watermill operating in the UK. The flour is handcrafted using the same methods and machinery that were employed 150 years ago. The organic stoneground wholemeal flour is sold in many quality farm shops around Somerset, as well as directly from the mill.
• Contact Steve French: 01749 673118
• Email: [email protected], web: www.burcottmill.com