After just a week, a crowdfunding campaign to help Wells City FC has raised nearly £4,000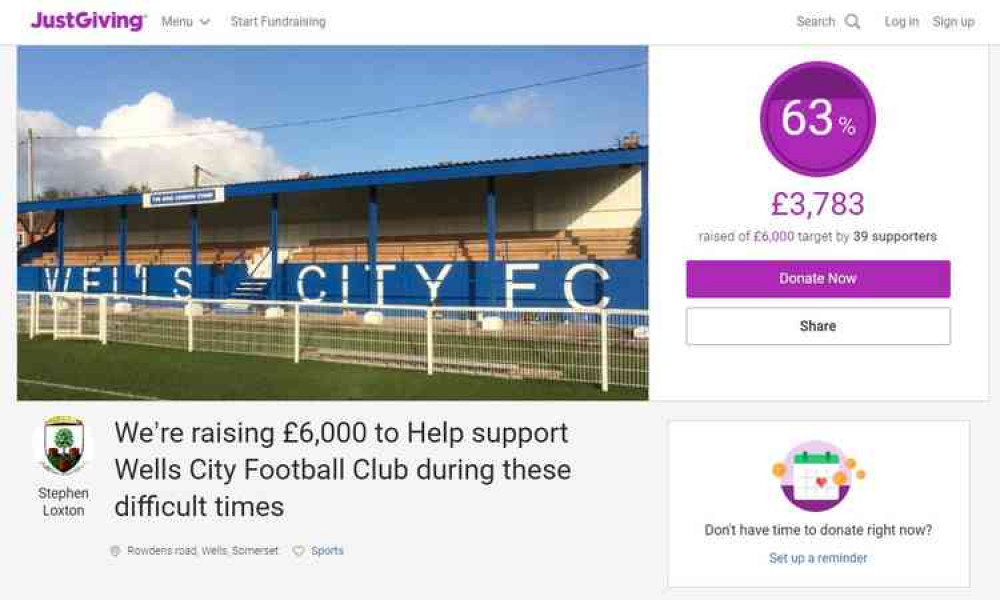 The Wells City JustGiving page
A crowdfunding campaign set up to support Wells City Football Club during the coronavirus crisis has raised nearly £4,000 in just one week.
Set up a week ago by Wells City chairman Steve Loxton, at the time of writing (11am on April 20) the JustGiving campaign has seen £3,783 pledged already from 39 supporters, towards the overall total of £6,000.
The club survives on the turnover generated from match days, private functions and local authority meetings.
As none of these are now possible the club finds itself without any income and mounting financial difficulties.
Joint first team managers Nathan Truckle and Tom Clifford-Jones are urging as many Wells residents to get behind the campaign as possible, and they told Wells Nub News how pleased they were with the response so far.
"During these unprecedented times everyone is feeling the affects of Covid-19 and as a local club that relies on its brilliant volunteers, youth set up and amazing supporters to keep the club running, we are no different," they said.
"The club offers so much to so many locally and we have seen an incredible response to the JustGiving page with already nearly 70 per cent of the target reached in only a week, this being achieved with no more than 40 fantastic supporters.
"All we can say on behalf of the club is that it really does make you so incredibly proud to be associated with a club like Wells City Football Club and to see the response from so many wonderful people.
"Please do continue to show your support as much as you can in the following weeks and as soon as it is safe to do so, we will be opening up the club to all of these people to come and enjoy a get together to show our appreciation of what they have done for us.
"We truly are thankful and we hope everyone is well and safe, and hopefully we will see you all sooner rather than later."
The club's crowdfunding campaign page sets out some background as to why they are fundraising, and what the club means to the city.
It says: "Wells City Football Club is an FA Community Standard Club, one of the highest accolades that can be awarded to a grass roots football club.
"It has been at the heart of the local community for Wells and the surrounding areas for more than 130 years.
"The club has men's teams in the Toolstation Western, Uhlsport Somerset County and The Mid Somerset leagues, the club also runs a youth/junior section starting with its Soccer School U6s, with every age group represented accumulating with our U18s who play in the the Somerset U18 floodlight league.
"In these very uncertain times, the next few weeks and months will be challenging for all, and Wells City FC is no different to any other.
"We are asking for anyone associated with Wells City past or present or within the wider community to help the club if at all possible, and support your local grass roots football club.
"We at Wells City Football Club appreciate this is a difficult time for all, any donations will be gratefully received."
To donate to the campaign, you can visit the crowdfunding page here.