Valentine's Storytelling: 'Tales of Love Gone Right' (well, mostly)
---
The Bishop's Palace, Wells
UNTIL Monday 14th February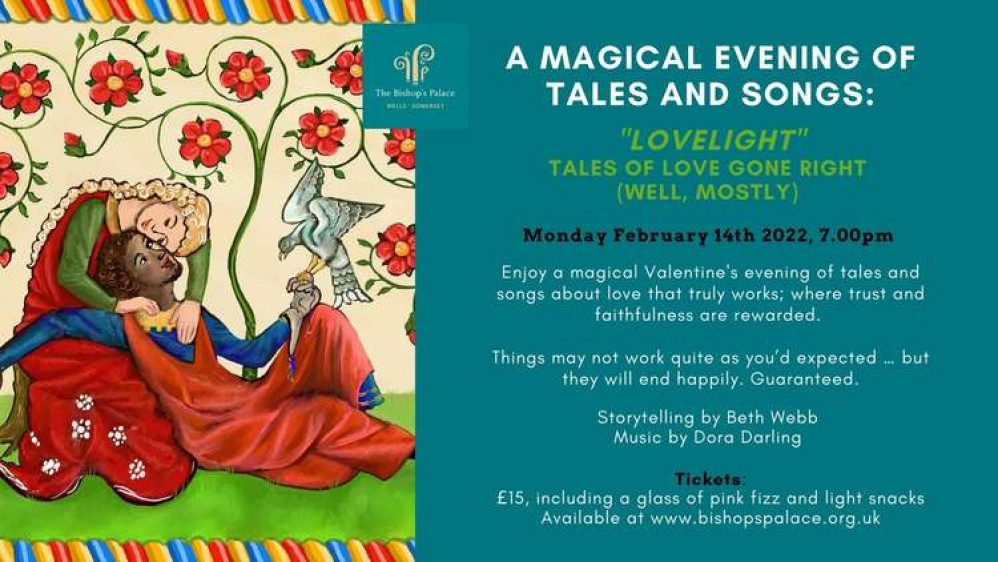 If you're looking for an evening of luscious stories and heart-warming songs to mark Valentine's Day this year, join storyteller Beth Webb and singer-songwriter Dora Darling, here at The Bishop's Palace, Wells on the 14th February for an evening of Valentine's Storytelling, to celebrate 'Tales of Love Gone Right'.
Valentine's night is for celebrating romance; dreaming of living 'happily ever after' with our beloveds. But it can be difficult to find a truly, happy ending these days!
So there'll be tales and ballads you may think you know but watch out for a twist or a tease. Things may not work quite as you'd expected … but they will end happily for those who deserve it. Guaranteed.
It will be a magical evening of tales, songs and Valentine's Storytelling about love that truly works; where trust and faithfulness are rewarded. And to make the evening perfect, the event will take place in the atmospheric medieval Undercroft at The Bishop's Palace with a glass of pink fizz and light snacks.
Doors open at 6.30pm with a start time of 7pm.
Tickets are priced at £15 each, drink and snacks.
Available online through our website and via our ticket office on 01749 988111
Add your Wells event for FREE here!
Nub It