Wells children show off their gardening skills in the Wells in Bloom Schools Awards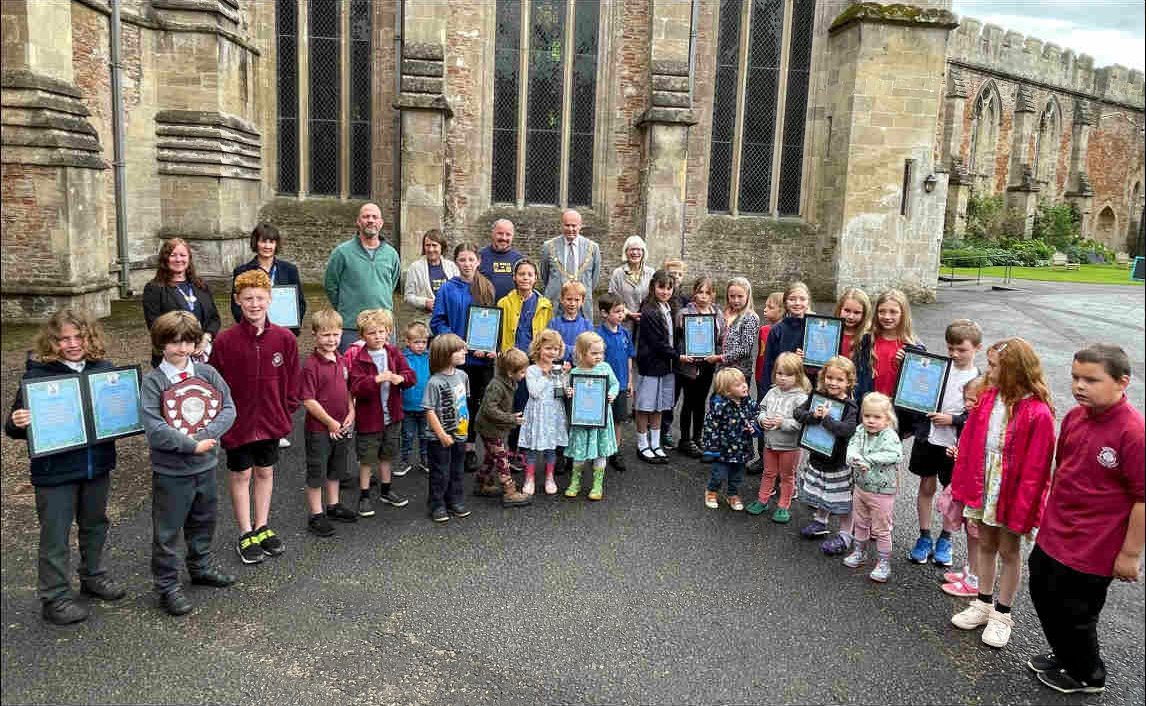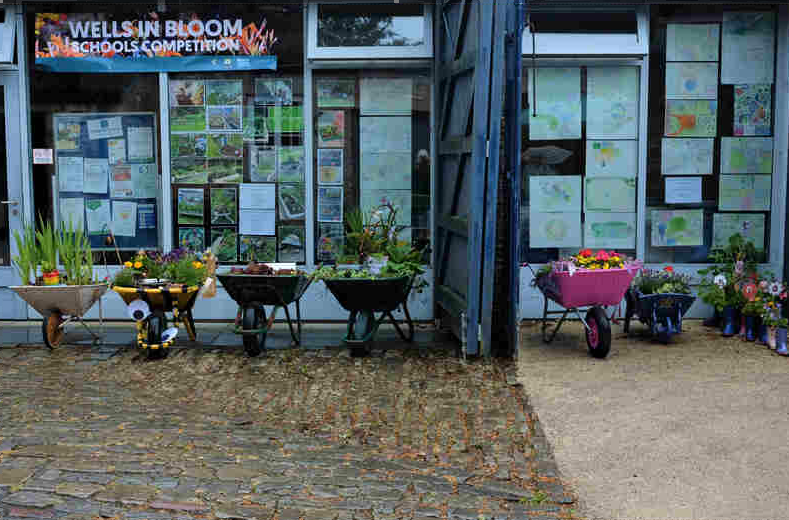 The Wells in Bloom Schools Award winners have been announced.
Eleven primary and nursery schools entered the competition which was back for the first time since 2019 due to Covid.
Mayor of Wells, Stewart Cursley, who presented the prizes said: "A big Congratulations to the eleven primary and nursery Schools which entered the Wells In Bloom 2022 Schools Competition.
"The judges were very impressed by the enthusiasm and commitment of the children in sowing seeds, planting and tending plants for the fantastic displays in the school gardens and in the containers that have been transported here to the Bishops' Palace Stable yard for all to see and admire.
"Schools do so much to nurture our children's interests in many ways, and we would like to give big thank you to the teachers and parents who have supported the learning outcomes of garden clubs. Not only have the children seen beautiful flowers grow from seeds to support bees and pollinating insects but they have produced and eaten the fruits and vegetables of their own hard work. Some have built insect homes, wormeries, made their own raised beds and the list goes on!
"In some schools they have had to work with less resources and have had good support from parents and volunteers to find the materials they needed. In other schools, gardening and the environment has become a subject embedded in the curriculum, and in others, the schools are at the start of their gardening journey and we look forward to seeing them take part again next year.
"We all know how nature is so important in our lives and what we have looked for in the judging is how the children have learnt how to look at the needs of wildlife as well as learn how to be good little gardeners. It is so encouraging to see how these schools are helping children to learn to be custodians of the environment as well as develop their gardening skills and green fingers!
"I would like to offer a big thank you to the Bishops' Palace for their collaboration in hosting this ceremony- it has meant that many more children from the schools have been able to come to the prize giving ceremony."
The winners and judges comments were as follows:
Wheelbarrow & Container Category
What really impressed us is that Explorers have managed to produce a wheelbarrow that was bursting with colour whilst also being full of little characters and child-made decorations that had obviously had a huge amount of input from the children. Hard to combine the two when everybody is 5 and under.
This container was a little treasure. The connection of the boot planters alluded to their name - Stepping Stones. It was imaginative and again with a lot of input from the children. Most unusual, and inspirational. Well done.
The staff of Little Wellies were very modest about their entry . With no experience of gardening between them they set themselves up for a lot failures – planting too early and planting bulbs that flower later in the year - and so their wheelbarrow was no where near as colourful as they had hoped. Nevertheless , from the photographs they showed us it was obvious that the children had been involved from seed to germination and had continued watering patiently for months before they saw their first green shoots. Well done for persistence and it turned out beautiful in the end.
Garden and Allotment Category
This entry was a mass of fruit and vegetables, flower beds, bee corners, bug hotels and wormeries. And what really astonished the judges was that it was only a bare piece of playing field earlier this year. An amazing achievement to the parents who have created the gardening club and a valuable learning resource for children. We wish them many enjoyable gardening years to come.
We really enjoyed the presentation of this garden that the children themselves put on for us. Their knowledge was impressive – from seed sowing, their battle against the slugs and snails, edible plants, herbs etc . It was also rewarding to see that a large part of the school took part in the gardening club. It may have been voluntary but they are not undersubscribed. A real whole school effort.
This was also another brand new garden by another team of novice staff. But yet again the children were really engaged with it, keen to tell us what they planted – or ate! Again, we loved to hear that most produce had been grown by seeds planted by the children, watered by them and finally harvested and cooked in their own kitchens. Garden to table – a brilliant lesson for all.
Queen's Platinum Jubilee Category
Unusually this entry was submitted by an Art class. Each child had designed a garden to celebrate the Queen's Jubilee. The attention to detail from dog gardens, BBQ's, wildlife fields and loads more was evidence that they had all learnt a lot about the Jubilee and gardening. Very impressive as they were all in an Art class at the time. Please take a look at all of their entries in the Stableyard beside the Cafe.
We were completely taken with this small, but beautiful entry. Hand painted by the children, designed around jubilee colours and a regal crown it is a delight to look at. It was entered into the wheelbarrow competition but we hope Croscombe forgive us for wanting to move it into this specific Jubilee Category. It is definitely small and perfectly formed.
Bonus prizes Category
This little garden had to be rewarded for its resilience and enthusiasm. They had lost a lot of their produce to drought and weeds and yet we have never seen children so enthusiastic to 'get weeding' and get it sorted. Nothing seemed to knock their spirits.
We were also very impressed to hear that the garden is used regularly for Emotional Literacy sessions to support vulnerable pupils. They have chosen to use their garden as a wider resource for the pupils and whilst this has limited their time to produce volumes of vegetables it was impressive to see them using their place to promote wellbeing and good mental health with their pupils. Gardens are well accepted places now for healing and improved mental health – this is an excellent example of it in action.
From a bare corner of a playground to a butterfly garden, a vegetable plot overflowing with produce, the biggest bug hotel ever to a bright pink wheelbarrow crammed with colour. Little hands have made light work of transforming this small space into an inviting garden. A great achievement.
What especially impressed us by Wookey was how they have embedded their gardening into their curriculum on a daily basis throughout the whole school. The children are truly engaged with the whole ethos and have even extended their efforts into keeping chickens. During our visit we were constantly passed by children running backwards or forwards with watering cans and an alarming amount of eggs wobbling in little hands as they ran into school with them. A really enjoyable space to be and so much produce ready for harvesting. A splendid achievement.
Best Wildlife friendly - St Joseph & St Teresa
The attention to wildlife runs throughout the whole garden at St. Joseph & St Teresa. a as mentioned earlier but it has also been extended to use as teaching resource. The polytunnel that has reinvented itself as a 'learning room for wet days' is crammed with information from pictures to identify the wildlife, through to spyglasses to count how many legs they have. They know a lot about bugs here and seem to being having fun learning.