Plunging temperatures cause carnage on Somerset's roads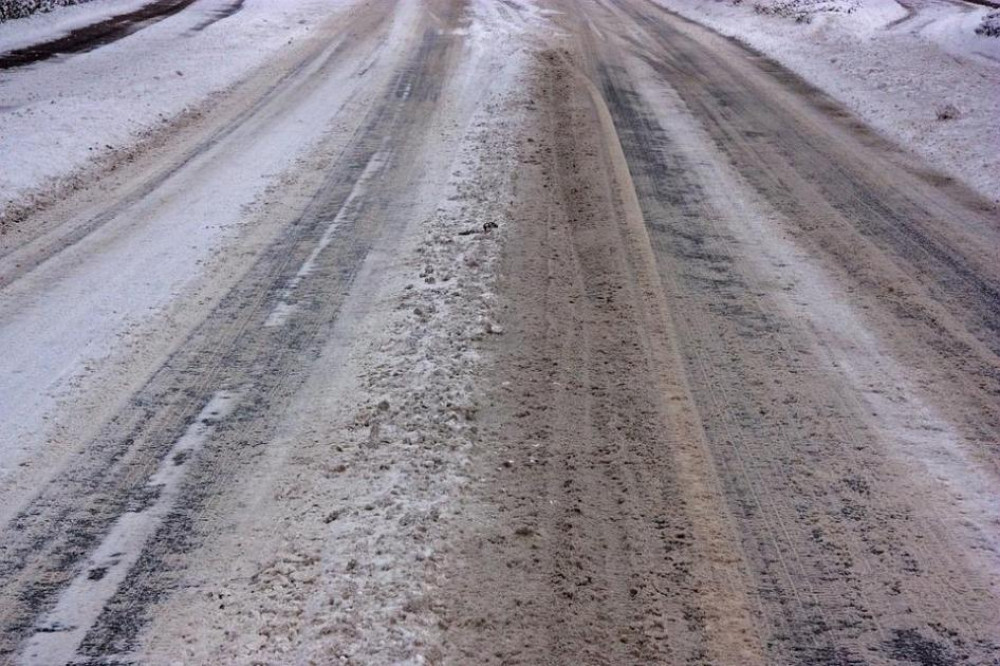 Police are urging motorists not to drive unless their journey is essential after more than 53 collisions between 6pm and 11pm on Monday evening.
Superintendent Mark Runacres said most of the incidents were a result of freezing weather, which following days of heavy rain, has made the roads treacherous.
Incidents reported included an overturned double decker on the B3339 Sandford Hill and collisions in Pylle, on Kilver Street in Shepton Mallet and at Somerton.
People were reported to have suffered injuries in seven crashes during five hours on Monday night, although none was thought to have been serious.
There were also 67 further calls from other road-related incidents during the same period.
Gritting lorries from Somerset County Council had been out ahead of the weather forecast, but the council grits about a fifth of Somerset's roads - mostly the main routes through the county, and they have warned that ice can still form on gritted roads.
"Our winter service team closely monitors the forecast in advance and all roads on Somerset's precautionary gritting network are treated when temperatures are forecast to fall below zero. This is 21 per cent of the County's roads and includes all major routes," a spokesperson said.
"All main routes were gritted yesterday afternoon before temperatures dropped and there was a further gritting operation across the county the following morning.
"The recent wet weather and standing flood water on roads poses an additional hazard to drivers and significant challenges to our teams.
"It's important to remember the majority of roads aren't gritted and never have been. Ice can still form on gritted roads which is why we echo the advice of our Avon and Somerset Police colleagues to only travel when it is necessary and to proceed with extreme caution if you are using our roads."
This morning, people have taken to community social media groups to warn others about accidents and slippery roads - and many roads in the county still remain closed due to localised flooding.
Supt Runacres added: "We are advising the public to only travel where absolutely essential due to the treacherous driving conditions. If travel is necessary, we ask the public to take extreme caution and allow additional time to travel.
"We have seen a significantly higher number of road-related collisions and incidents in the past 12 hours, which has increased the demand on police resources.
"We are working with local authorities and National Highways to ensure roads are properly gritted ahead of the rush hour traffic to improve driving conditions."
The RAC has issued advice to motorists to help keep them safe on wintery roads:
How to prepare for driving on ice
Firstly, think about whether your journey is really necessary.
Tyre grip is hugely reduced on icy roads, and braking distances are much longer.
Even if you avoid an accident, your car may get stuck – potentially leading to a long walk home. Traffic congestion is likely to be worse, too. If you don't get stuck, the driver in front of you probably will…
Before you leave home, make sure you pack a charged mobile phone (and a charger cable), a bottle of water, a few snacks and a warm blanket. If snowfall looks likely, a set of snow socks – high-grip fabric covers fitted over the car's driven wheels – is worth having, too.
If you're driving to meet someone, let them know your route and when you expect to arrive. Make sure the car's windows and mirrors are completely clear before you set off. And in cars with selectable drive modes, select the best option for cold conditions.
How to drive on icy roads
Anticipation and smoothness are key for driving on icy roads.
Look well ahead for potential hazards – including, of course, patches of ice – and keep your speed well down.
Accelerate, brake, steer and change gear as smoothly as possible to reduce the risk of a skid.
A higher gear may be more appropriate to aid grip on packed ice.
This helps manage engine power delivery, making it easier to find traction. If it's a manual, you might need to slip the clutch a little to prevent the car from stalling.
Many automatics will let you select second gear at a standstill to pull away in.
What is the braking distance on ice?
Braking distances can increase tenfold on ice compared with a dry road.
For this reason, you should leave up to 10 times the normal recommended gap between you and the car in front.
Remember that tyres grip less efficiently in cold conditions.
So even if the temperature is above zero and there's no ice on the road, you should take extra care.
Winter tyres offer more grip and can significantly increase performance in icy conditions.