Mulberry team conquer Three Peaks to raise money for local mental health charities - including Making Space Wells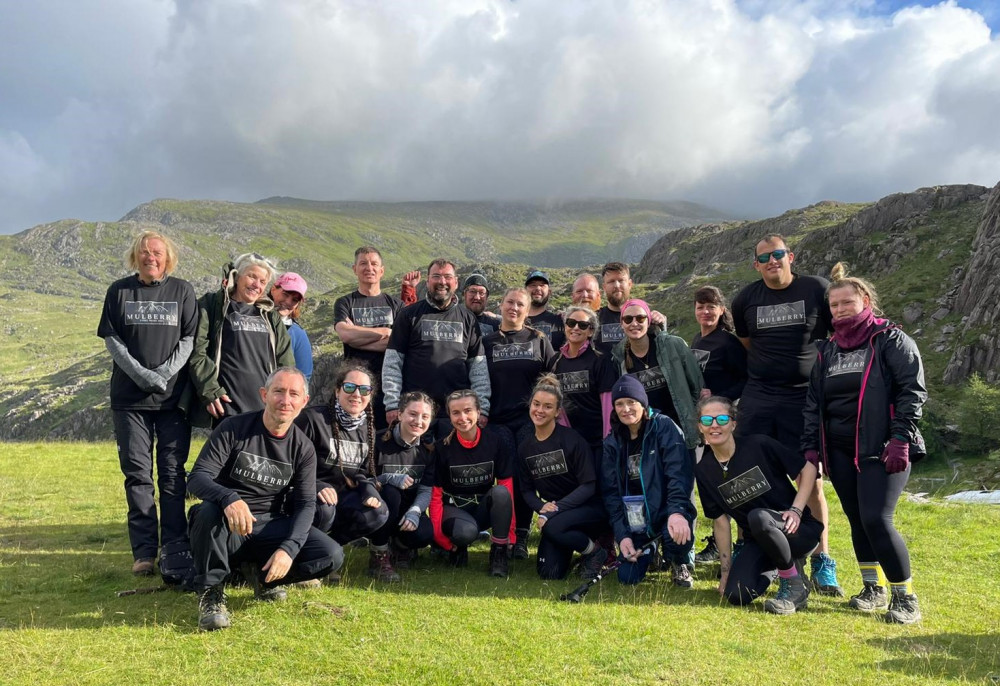 Team Mulberry ahead of their third and final climb
A team of 22 intrepid Mulberry staff members recently completed the Three Peaks Challenge 2022, raising over £6,000 so far for mental health charities across Somerset.
The team consisted of employees from Mulberry's two Somerset factories (The Rookery in Chilcompton and The Willows in Bridgwater), their Somerset warehouse, and their London office. Led by Supply Chain Director, Rob Billington, they climbed to the summits of the three highest national peaks, conquering Ben Nevis (Scotland), Scafell Pike (England) and Snowdon (Wales) in three days. The total walking distance of this incredible feat is 23 miles (37km) and the total ascent is 3064 metres (10,052ft).
The team is raising money for the Mulberry Somerset Community Fund (MSCF), administered by Somerset Community Foundation (SCF), which gives money to local charities and good causes to make a difference in local communities across Somerset.
Rosie Wollacott Phillips, Head of Sustainability said: "Our partnership with SCF and the creation of our own Mulberry Somerset Community Fund is a great way for us, as a local business, to have a broad impact in our community. The money raised by Team Mulberry from this year's Three Peaks challenge will go towards supporting the excellent work of mental health charities and organisations in the county."
Laura Blake, Development Director at SCF added: "We're incredibly proud to be working in partnership with Mulberry, who are really leading the way as a socially responsible business in all they do, including through their charitable and community support. Since the MSCF was launched in late 2021 we've already awarded almost £11,000 in grants to 13 charities in Somerset, with plans to award many more grants to local charities in the months ahead, thanks to the funds raised through this epic challenge."
Making Space Wells is a volunteer-run, community-based, non-profit making organisation formed in 2021. Crafting skills are shared and individuals can take part in collaborative community craft events, addressing loneliness and isolation, which in turn improves mental health and wellbeing. The group was recently awarded a £3,000 grant - £750 of which was made up by a donation from the MSCF.
Sarah Briton from the group explained: "Over the past few years we've watched the opportunities available for folk here in Wells to engage in adult education and craft activities diminish. At Making Space Wells we wanted to change that; we're demonstrating that in providing a warm welcoming environment with people willing to share skills the learning just happens, fun happens and friendships happen too. We're very grateful for our grant which allows us to develop craft courses in Wells including monthly 'Away Days' where we'll visit a variety of crafting events. We also plan to run four weekend-long, affordable, in-depth craft courses including Basket Making. In addition to learning and practising crafts, which in itself has significant mental health benefits, people experience companionship and kindness - both giving and receiving, which is such a contrast to the loneliness that many of us have experienced in the last few years. A recent survey identified loneliness as a key problem for many Wells residents and we hope that Making Space Wells is a positive step in addressing this. We've received such great feedback already, it's been a really uplifting experience for all."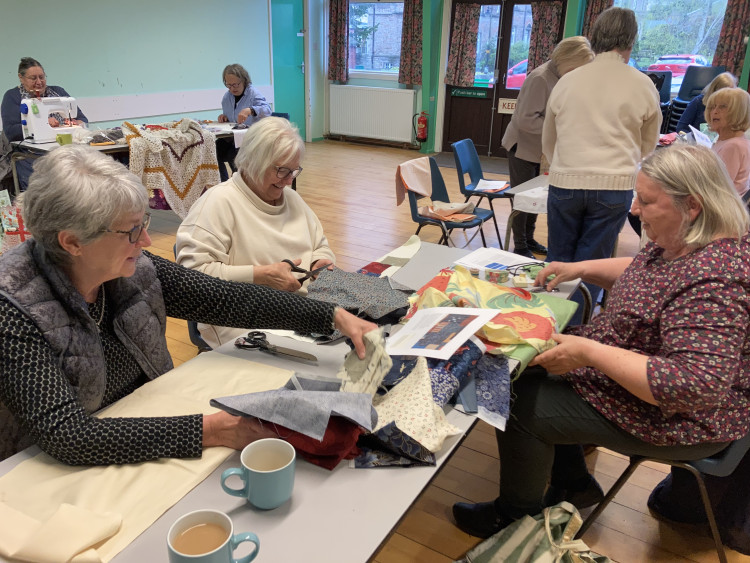 Crafters getting crafty with Making Space Wells at St Thomas Church Hall in Wells, recently. Photo by Philip Welch
Any community group or charitable organisation wishing to apply for funding from The Mulberry Somerset Community Fund should visit the SCF website where they can find guidance on how to make an application to their Main Grants programme: www.somersetcf.org.uk/grants-groups
Somerset Community Foundation is a charity that helps passionate people in Somerset change the world on their doorstep by funding local charities and inspiring local giving and philanthropy. They aim to build stronger communities in Somerset where everyone has the opportunity to thrive. They provide rewarding and impactful ways for donors to give through them, to the causes and places they care about most. Together, they fund amazing organisations and the passionate people that change lives every day.
Since SCF were founded in 2002 they've awarded over £19 million in funding, changing thousands of lives across Somerset.