Tickets for Somerset's only touring adult panto have gone on sale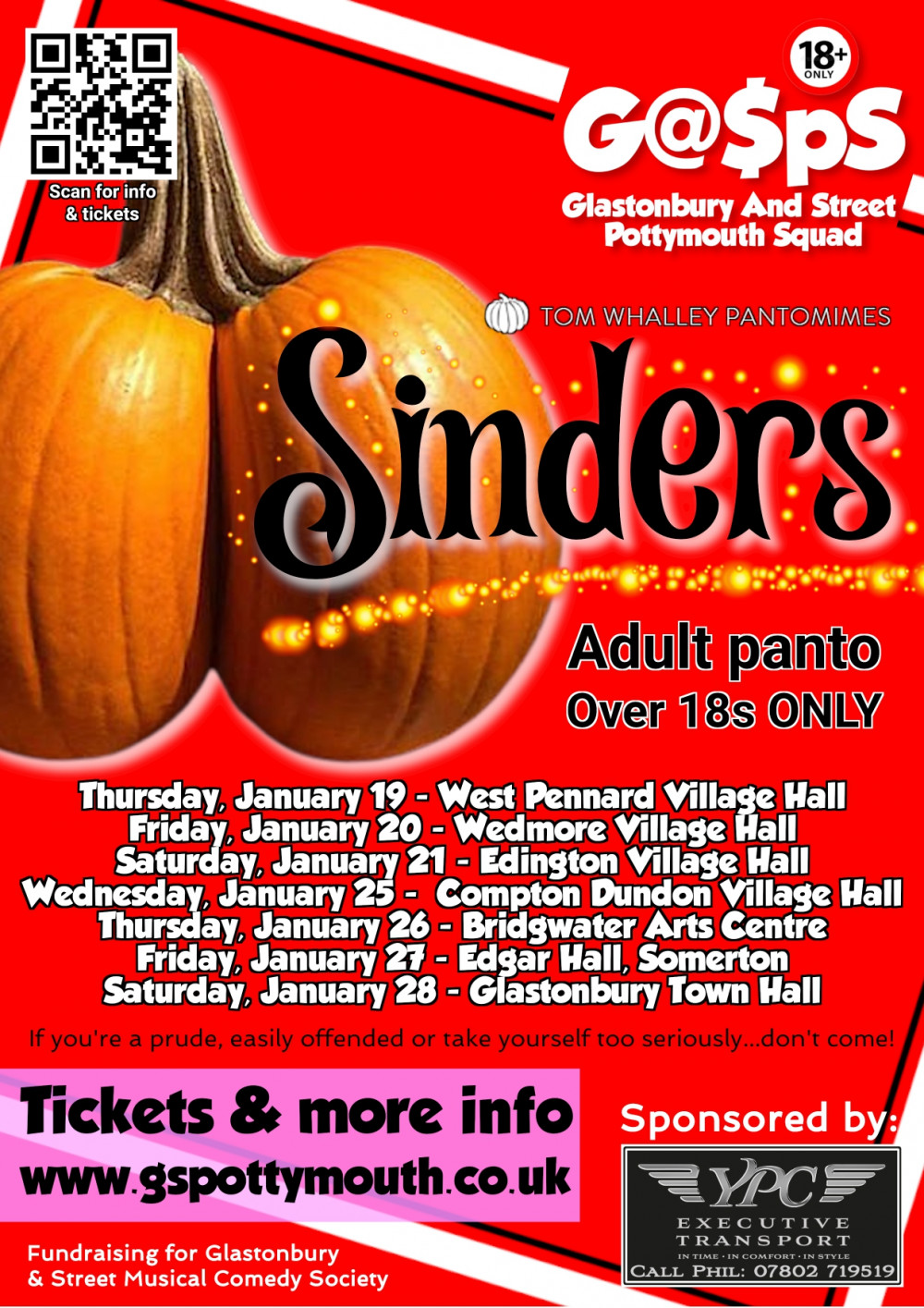 Sinders will push the boundaries
Tickets for Somerset's only touring adult panto have gone on sale as the group behind it say they are about to bring a new slant to the county's pantomime scene.
The Glastonbury And Street Pottymouth Squad (GASPS) says its adult pantomimes will push the boundaries, and be one step beyond the smutty humour of the beloved Carry On movies with all the naughty bits left in.
The newly launched group will tour its adult production of Sinders at seven Somerset venues, with all proceeds from ticket sales being donated to the Glastonbury and Street Musical Comedy Society (GSMCS) to secure the future of amateur musical theatre in mid-Somerset.
The idea to launch the new group came from members of GSMCS who realised that the possibility of staging a family panto in Street or Glastonbury was looking less likely, while also recognising they needed to think outside the box to raise funds for their annual musicals.
The pantos will be performed between January 19 and 28 at the following locations:
Thursday, January 19 - West Pennard Village Hall
Friday, January 20 - Wedmore Village Hall
Saturday, January 21 - Edington Village Hall
Wednesday, January 25 - Compton Dundon Village Hall
Thursday, January 26 - Bridgwater Arts Centre
Friday, January 27 - Edgar Hall, Somerton
Saturday, January 28 - Glastonbury Town Hall
The show is packed with lots of familiar local faces both on and off stage, with decades of stage experience under their belts, including its Director, theatre stalwart Brian Epps from Street, who has been treading the boards for 60 years, and former professional magician Jonathan Miller from Glastonbury, who has appeared on prime-time television and has recently won awards for playing the dame in family pantos.
Laura Vernoum, who is producing GASPS' first adult panto and will perform as one of 'the girls', said: "We're really excited to be bringing panto to Somerset – but not a panto like most have come to expect. This will have the smut, rudeness and cheekiness that you simply can't perform in a family show. It will be strictly for adults only; there will be some swearing, there will be mickey-taking, there will be some flesh, and there will be lots of gasps, so if you're a prude, easily offended or take yourself too seriously, our shows won't be for you.
"While our pantos will be for adults, they will still follow a traditional panto story line with all the characters we know and love, but perhaps with some more risqué names and story lines. And we're not going to scrimp and save on the quality of the performance, we still want this to be a fantastic show, just with a naughty twist.
"GASPS has been created by like-minded people who recognise that we simply have to come up with new ideas to raise funds if we want to keep amateur theatre alive in mid-Somerset. Covid has really shown us how vulnerable this sector can be, so there's really no better time to be kicking off our new venture as we're coming out of the pandemic. In fact, you might say this is our very adult middle finger to the pandemic! We all need a good belly laugh after the past two years, and this will be the ideal tonic just at the right time."
Tickets cost £15 and include a welcome drink. They can be bought online: www.gspottymouth.co.uk. For more information and updates follow GASPS' social media accounts on Facebook and Instagram: @GSPottyMouth.
If you would like to help or support GASPS, or would like to sponsor their project, contact them via their website: www.gspottymouth.co.uk